Shree Amarnath Yatra 2023 Online Registration.

Online registration for Amarnath Yatra 2023 has started Do you also want to visit Baba Amarnath if yes then good news for all devotees Shree Amarnath Yatra closed for two years is going to start formally in 2020 and 2021 Amarnath due to covid 19 pandemic The Yatra was conducted only on a personal basis due to which the dream of new devotees to see Baba Amarnath could not be fulfilled but in 2023 this Yatra is already going to start as before..


Baba Amarnath Yatra Registration 2023.

Amarnath shrime board has started online registration for Amarnath Yatra from the month of April Shri Amarnath Yatra 2023 online registration and related official information we will tell you through this article then every devoted reader friends with folded hands please read the information till the end and other known relatives Share this information more and more with devoted friends.

Amarnath Yatra.

Amarnath Yatra is the oldest organized pilgrimage system of the Himalayan Yatra Dham developed over time by Hindu sages and embodies the spirit of wandering adventure and spirituality Amarnath Cave is a famous pilgrimage site of Hinduism where people come to have a glimpse of the ice Shivlinga i.e. Lord Shiva. Batalal one block for flow passes through Pahalgam etc. Amarnath cave is 3,890 km long above sea level All nationals of the country and abroad come to visit here every year 10 to 12 feet high Shivlinga is made of snow drop The height of Shivlinga continuously increases and decreases with the waxing and waning of the moon. takes place and on the full moon day the Shivlinga is at its full size.

Terms and Conditions for Amarnath Yatra 2023 Online Registration.

Amarnath Yatra is considered as one of the most remote pilgrimage places so strict rules and conditions have been made by the Government of India and the Amarnath Board to visit here which are mandatory for every traveler apart from this Jammu and Kashmir is always facing the problem of terrorism due to which there is a threat from time to time. Keeping all these things in mind the terms and conditions implemented by the board and administration should be followed as a responsible citizen Read the following points carefully .

It is mandatory for all devotees and devotees who want to have darshan of Baba Amarnath to take online or online format.

The format issued by the Board will be valid for one tour only.

Any interested devotee should be between the age of 13 years to 75 years and apart from this women with less than 6 weeks of pregnancy can register themselves..

It is mandatory for all passengers to submit their health certificate to issue a permit.

Insurance cover for Amarnath Yatris.

Every tourist visiting Baba Amarnath is insured. Till last few years the fare was Rs 3 lakh which has now been increased to Rs 5 lakh..
Amarnath Yatra 2023 Application Form.
All devotees can download the appropriate yatra permit application form from the official website.The registration process is done with the help of around 445 bank branches across the country.Additional registration form can be submitted through the bank branches. Forms to be submitted Registration and application forms for compulsory health certificate are provided online by SSB.
How to do Amarnath Yatra 2023 Online Registration?.
Online application process facility for Amarnath Yatra is also available here we have given the complete process of online registration by following which you can register yourself in which.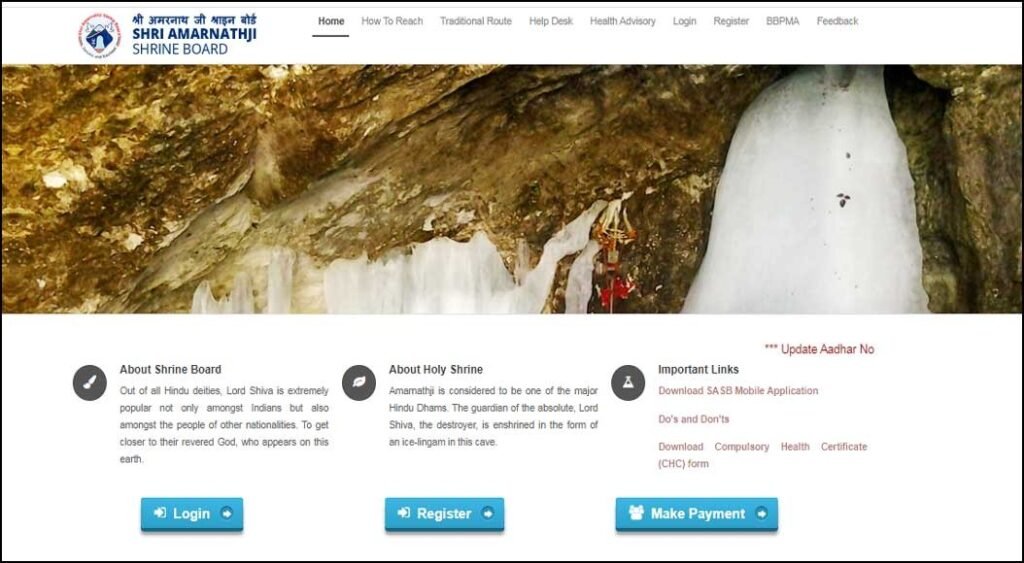 Then you have to click on the register button given below

.
After clicking on

REGISTER

you have to register by ticking AGREE after reading all the things given in the note carefully.
Now in the form that will open in front of you, you have to carefully fill the details from where you want to start your journey, on which day you want to start your journey, your name, address, medical details, your photo, all these have to be submitted.

.
After submission a message will appear on your screen that your details have been saved and your registration number and OTP will be sent to your email and number which you have to enter and submit..
After this they will get your registration and after verifying the details by the board you will get a mail to download travel permit which says pay within 24 hours to download travel permit and download your permit

.
After you make the payment you can download the travel permit pdf

.
It takes a few days to receive the travel payment. You can also check your registration by doing a track application on the official website..
Important documents of Amarnath Yatra
Four passport size photographs

.
Amarnath Yatra Registration Fee.
Online registration is 220 rupees and five people can register from one mobile

.
માહિતી ગુજરાતીમાં વાંચવા અહીં ક્લિક કરો

Helpline number.
To get more information regarding Amarnath Yatra or to solve any problem you can inquire on the following email or number.
હેલ્પલાઇન નંબર
14464
જમ્મુ હેલ્પલાઈન નંબર
0191-2503399,
0191-255662,
18001807198
શ્રીનગર હેલ્પલાઈન નંબર
0194-2313146,
0194-2313147,
1800180199
ઈમેલ આઈડી
sasbjk2001@gmail.com
હેલિકોપ્ટર સેવા
+911942313146