Chats are done in WhatsApp, so definitely these settings
Nowadays more people prefer chatting to whitspace than calling.
Because there is no time for lifting the phone in a runny life.
In such a way, Whipspace is a better option in which a message sender can send messages and reader can read and reply to this message at any time.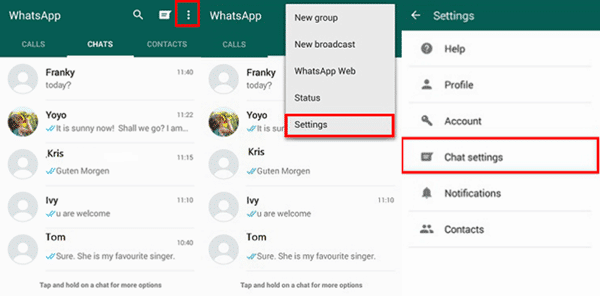 For this reason, many such things are done by chatting in Whipspace, which is very important for us, but many times mistakes are lost on all Whatsap messages.
But we have trouble when some of the things happened during the chatting, which are going to come forward, we have no option left after the whitspace chat has been deleted.
So if you also talk to Whitspap, you should back up your Whipspace.
Once backed up, you can regain your chatting anytime from any mobile computer or laptop.
You also need only one email address for that too.
To back up WhatsApp, first you have to open your whipspace and go to the settings by clicking on the three points above it's right side.
Join Our Telegram Group To Get Latest Updates :
After this, you will get a chat option in it, after clicking on it you will get a backup of it.
After clicking on the backup, you will see the Google Drive setting option here.
You can click on Backup to Google Drive and here you will see some options, you will have to click on DAILY.
After this you will get an option and it will be written in Chuen N account. If your email account is already add-on, then it is okay if you enter your email address and OK it.
After this, whatever you are chatting in WhatsApp will be saved in your Google Drive. Now after you delete your Whitespace chat or you lose mobile, you can easily get your chatting from any device easily.
From which you will save your important data.